Builder, Skipper, Author - Dean C. Swift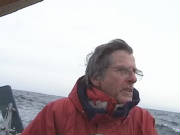 ...at the helm...
"To realise my desire to see the world at my own pace, I needed a yacht. One that was affordable, and capable of crossing oceans. So, in my backyard, I built a 25 foot sailboat, of wood, with which I have crossed an ocean, and so persue my quest. I take this opportunity to thank all those who helped me and sailed with me in this this endeavour." Dean C. Swift, builder and skipper of the gaff sloop Lucky Linda.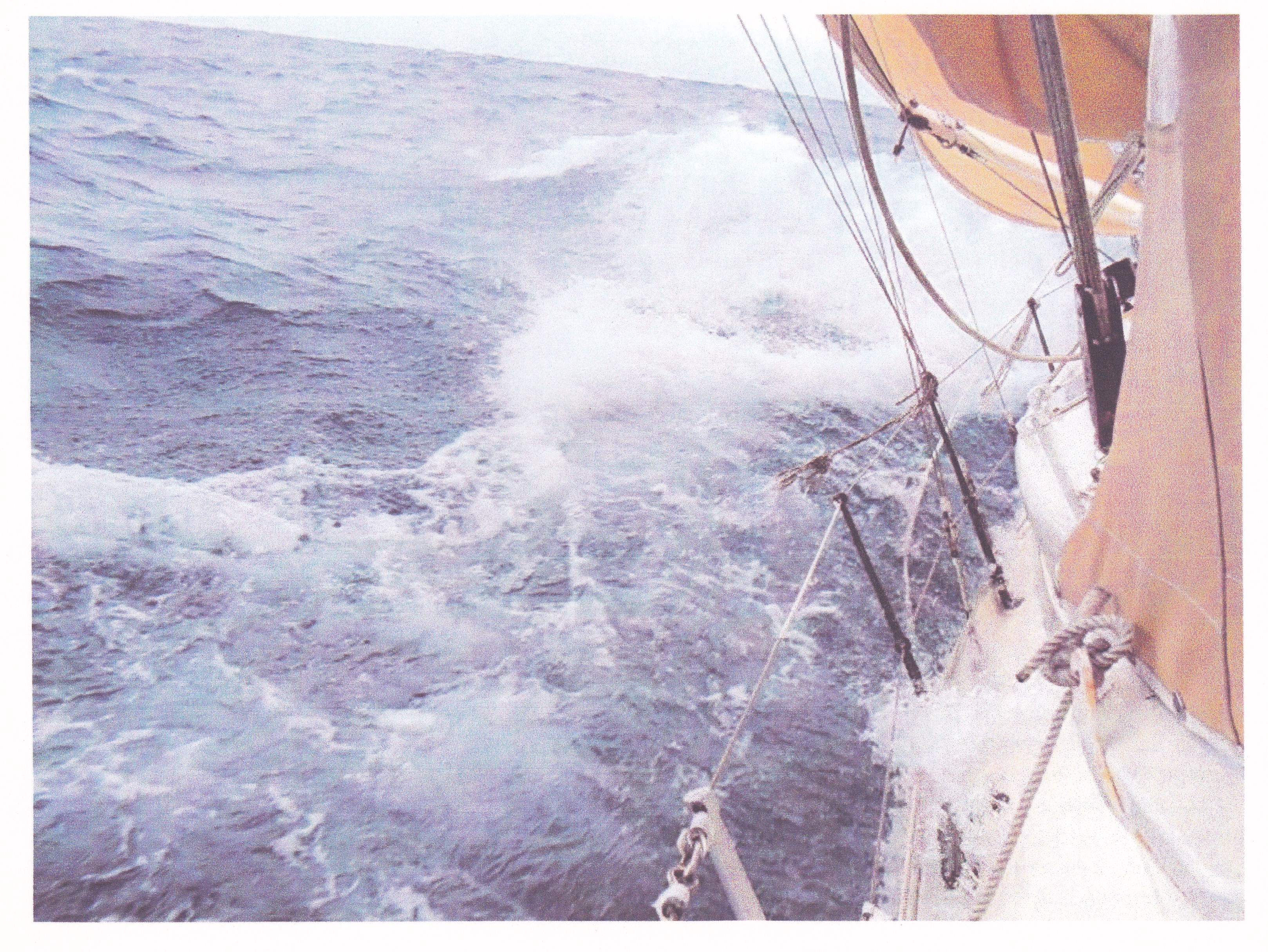 Lucky Linda dips her rail into the North Atlantic while beating to Portugal - photo by Bob Hansen
There's always an excuse not to do what your heart desires. If your dream is a high seas adventure, with visits to exotic ports only seen in the movies, or places you've only imagined, then contact Dean to begin the realisation of that dream!
from '83 Days to Weather'
Dean had been away for, oh so long, and I was adapting well to the independent life. I was deep in thought, wondering how to start the lawn mower, when the phone rang. It was Sunday, the 16th of May, a day that I will never forget. The call came from the Portuguese Coast Guard. "The Portuguese Coast Guard!" Why would they be calling me?
I listened in disbelief as the man on the other end asked me questions about the boat. Did I know; the departure date, the boat registration, what flag she carried, was there an EPIRB on-board and more?
"Oh no, Dean is dead. I couldn't get this thought out of my head. I sat down and I cried and cried 'til I couldn't cry anymore.
On the 20th of May I received an e-mail from the Coast Guard, I read the subject line: 'OVERDUE S/V LUCKY LINDA ' and I whispered, "Lord, please - give me strength."
-Linda Swift
For a free PDF copy of

'So You Want to Build a Boat

?', '

Driven

' or '

83 Days to Weather'

, the three books which chronicle the building and cruising thus far of Lucky Linda, send a request to

luckylinda@bell.net
In nautical terms, what's your definition of... The term 'ABACK' ?
Answer from Chapman-The Sailor's Lexicon: The situation of a ship's sails when the wind bears against their front surfaces. They are 'laid aback', when this is purposely effected to deaden her way by rounding in the weather braces; and 'taken aback', when brought to by an unexpected change of wind, or by inattention in the helmsman.
better late than never...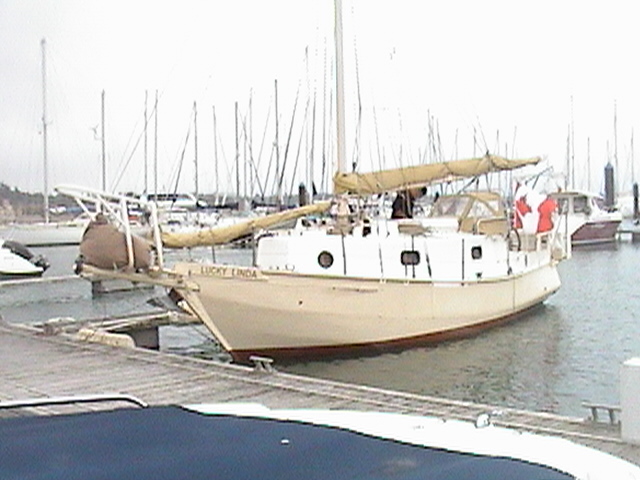 Serge inspects Lucky Linda shortly after her launch in Portimao, seven years after her arrival.
Believe it or not - the 2nd of May, 2017, and Lucky Linda at 1630 local time was picked up and gently carried to the launching dock. At 1800 she was berthed alongside at Marina de Portimao where I will finish the task of the engine refit. So so good! Many thanks to Denys Moraes of Algarve Yacht Services for his diversified assistance on this project.
November, 2016 - Many thanks to Chris Willis of Bluewater Algarve for his assistance.
August, 2016-our Yanmar has been refurbished and is on its way to Portimao.
February, 2016 Here we are, Linda and I, back in Portimao, Portugal, making arrangements to have Lucky Linda's new engine installed. Except for a few cool days, the weather has been great. I must also salute those at the RESIDENCIAL ARABI for the outstanding service they have provided during our stay with them.




To Ivo Ferreira, Ana Ferreira, Luminita Crudu and Amalia: Obrigado pela vossa estadia, e pela vossa ajuda. Cumprimentos




Also my thanks to the Portimao Marina and Bluewater Marine.
May, 2015-An engine has been purchased, things are looking good.
May, 2016 - Our Yanmar GM10, is currently being refitted and adapted to a hydraulic drive system by Lawrence Ladoceur, an expert in the field, of Alexandria, Ontario, Canada.
FLASH-January, 2015-a new (used) engine is on the way for Lucky Linda, hopefully I'll have it installed in time for a summer passage to South America (Argentina). I'll be posting details of the refit (suppliers and progress) as they happen, Wish me luck! April - The deal is dead, the supplier, Sailboat Restorations in the U.S., failed to deliver, the search continues...
April, 2013. Okay. So here I am in Portimao, Portugal, getting Lucky Linda ready to once more face the Atlantic. All she needs is the replacing of a bit of doubtful wood, some tinkering with the engine and some help from God and She's ready. The weather's been a bit wet and cool, but that's par for the course, Right? Anyway, launching is not too far away, then we'll see who rules the waves. Stay tuned!
May, 2013. Still here in Portimao, still working on Lucky Linda. I've rebuilt the mast and removed some redundant gear. Now it's just a matter of waiting for a crane to step it. The deck, however must be compleatly stripped , epoxied and painted. That's the current project.
The weather, though, is great, and the fellow sailors in the yard are a very interesting and helpful bunch.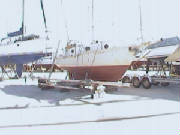 Here she is.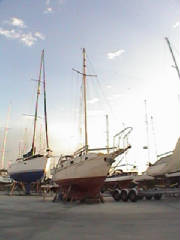 stepped-May 2013
May 2013. Lucky Linda finally has her rebuilt mast stepped. It's a long process, but to cross the Atlantic, all must be ship-shape. Now a little work on the hull and a few small items for the sake of safety and she'll be ready once again.
rigged...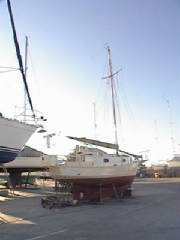 but not quite ready
June 2013. The rigging is set, the sails are bent, the decks and trunk have been repaired and painted-but there are still a few things to do-it's not launch time yet!
Andre and Andromeda...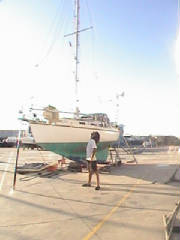 ready-almost
June 2013. Andre has been working hard on Andromeda; he'll definitely beat me at launching!
Silainua in Vitoria...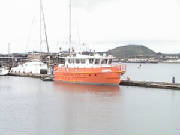 almost ready for sea
June 2013.

The beginning of June, and Lucky Linda will have to wait a while longer to get her bottom wet. I'm in Vitoria, the Azores, crewing on the research vessel Silainua (

www.silainua.org

), which, after some minor modifications, will be making a run to St. Johns, Newfoundland.
Thomas, Bryan and Dean...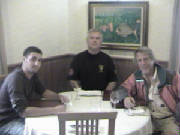 in order of seniority
Thomas, left, of French-Italian heritage, and senior crew; Bryan, centre, pure Canadian and third in seniority after Mor; then there's Dean, on the right (but on the left) of English-Canadian stock-bottom on the Totam pole.
going underground...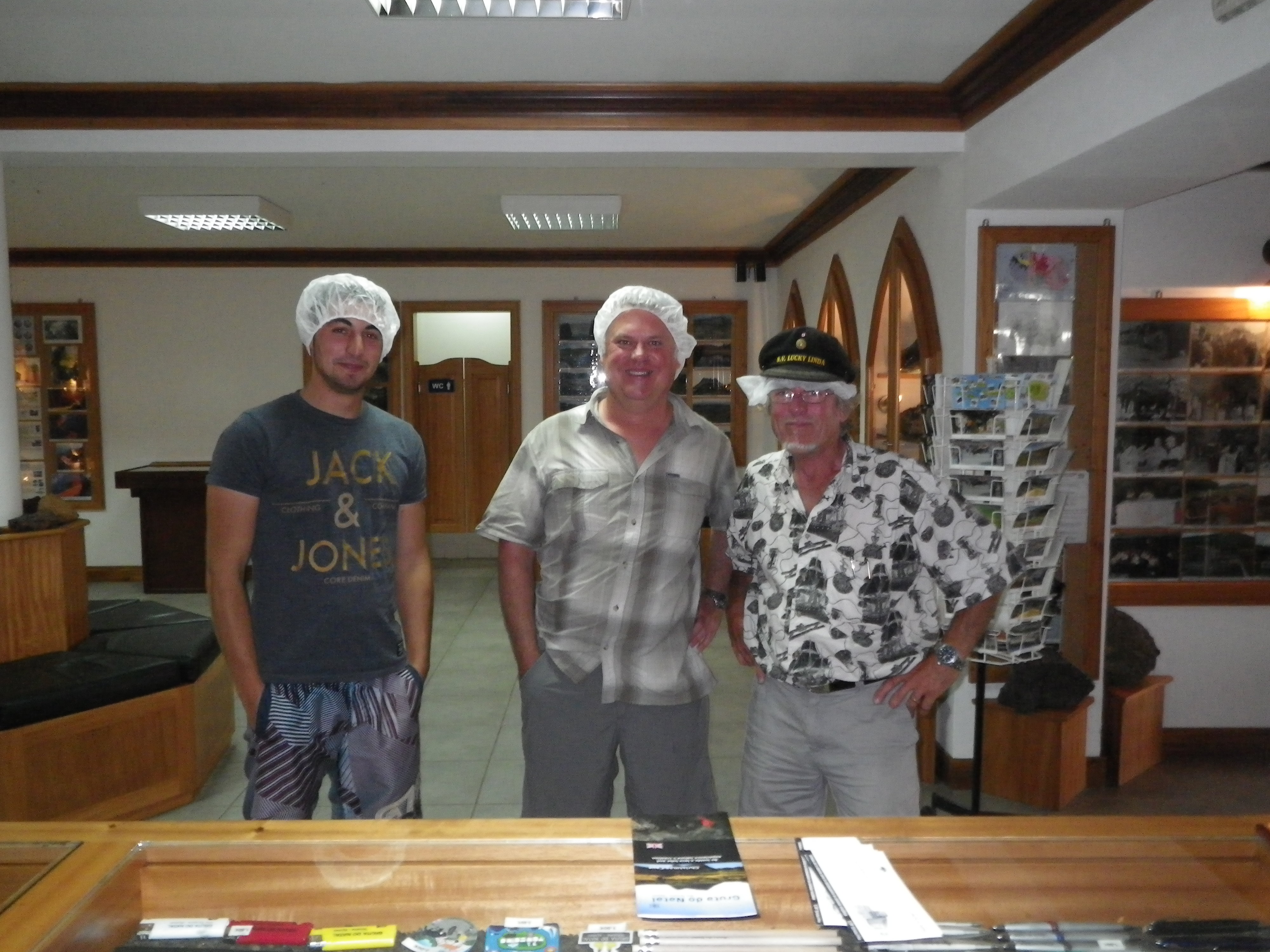 The Three Amigos explore a lava tunnel and have come up with some ideas...
14th June 2013. The plan is - to depart Vitoria sometime in the PM of Saturday, the 15th of June.
Jacqueline & Christiane...
on board Maris Stella
Jacqueline and Christiane Darde, now proud to be 66 and 65 years respectively, pose for a picture aboard their 38' sloop, Maris Stella, in Pria da Vitoria. Departing Labarrede Monts, France, the sisters, from 1978 to '83, circumnavigated the globe; from 1985 to '93, traversed the Panama canal to loop the Pacific and return to France via Cape Horn; from 1995 to 2002 did another circumnavigation and are just now returning home after a voyage to Argentina, begun in 2008. Accounts of their exploits were chronicled in the May 1995 edition of Voiles & Voilers.
16 June. Silainua is not yet ready for sea, so I have decided to disembark and find an alternative way home. Too bad, but so it is!
27 March, 2014. Another spell in Portugal; only three weeks this time, but with Linda. This was a vacation, no working on the boat. The weather co-operated, giving us solid sunshine and warm temps.

I've arranged for work on the engine to be done by a local mechanic and I'm getting quotes on improvements to the external hand-holds; all necessary work for a safe crossing to South America!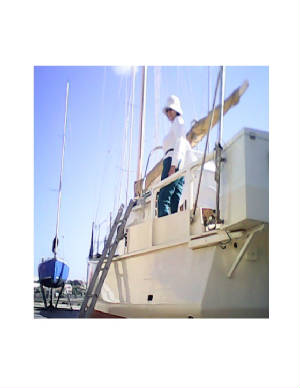 Linda overcomes her fear of going past the second rung on a ladder. She has no problem getting aboard Lucky Linda while the the boat is on the hard at Portimao.
(scroll down for language translation feature)
Whether travelling by sea or land or air, Dean uses excerpts from his jounals and logs to describe some of his own experiences, and those of others, to help travellers have a more enjoyable experience.
There are plenty of sites with the technical info about almost any where one might want to travel. The question is: Will you enjoy it once you're there? Find out what others have to say.
Best Wishes!